My friend Bob Orben contacted me after reading my blog entitled, "What Are You Missing" which was about missing opportunities in life because we're not looking for them – because we're not paying attention. He pointed out that paying attention is also the basis for writing humor. It involves seeing beyond what's on the surface to find funny connections that may not seem so obvious. And Bob should know. He has written nearly 50 books on humor and was a comedy writer for Red Skelton, Dick Gregory, and Jack Paar. Recently, I had the privilege of awarding Bob with the Master of Influence Award from the National Speakers Association because of how he influenced so many with his writing.
Bob's comment reminded me how fun it is to notice the humor that is right in front of us by simply paying attention. So, in this issue, I thought it might be a nice break from the somewhat serious topics to enjoy a few examples of the humor in our everyday experiences. And at the risk of getting too analytical, I've added introductory comments to illustrate where the humor occurred and a description of the mechanics behind the funny. Enjoy.
#1 – Among the many opinions and self promotional comments on Facebook, there are hidden gems. Someone recently posted this joke which is a great example of reversing a familiar saying: "To the person in camouflage on crutches who just stole my wallet, you can hide but you can't run."
#2 – Misdirection is a wonderful type of humor. In this tweet posted by Dan Stewart, senior editor at The Week, he illustrates it brilliantly: "The Washington Redskins are to change their name, due to the negative associations. From now on, they will be known as the 'Maryland Redskins.'" (You think he's referring to the name Redskins but instead, he's referring to the association with Washington and the government shutdown.)
#3 – Humor can surprise you and some of the best humor occurs when it comes from someone spontaneously, truthfully, and in the moment. At a church we were visiting recently, the pastor was preaching the sermon and said, "Oh, I forgot to share the Bible verse. I guess we should see what Jesus has to say rather than just my opinion." He didn't try to cover up his mistake but instead, had fun with it.
#4 – Defining a word differently is another type of humor. The late speaker and humorist CW Metcalf had a very serious brain tumor. The night before his surgery, the surgeon told him he had a 5% chance of survival. He asked CW if he had all of his affairs in order. CW responded, "I'm monogamous." CW was using humor as a way to cope with his grave situation. He did survive the surgery, by the way, and lived another ten years, assumedly monogamous.
#5 – Sometimes, when we bring attention to the obvious, it's funny. In the summer of 2012, The University of Virginia Board of Visitors fired beloved president Teresa Sullivan only to reinstate her two months later in what many called a board leadership debacle. The following May, commencement speaker Stephen Colbert was addressing the audience and said, "I want to thank President Teresa Sullivan. You are way better than that last president, Teresa Sullivan. She was horrible." A hilarious statement of the obvious.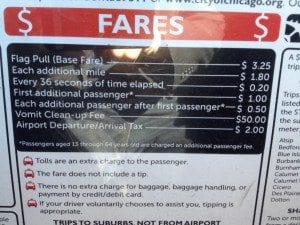 #6 – Lastly, I'll revisit a great example of humor that might appear hidden but is actually right in front of you. This photo was taken in a cab in Chicago. While it is common to list the charges on a fare schedule, I'm not accustomed to seeing a charge for vomit cleanup. In fact, after I read that, I started to feel a bit nauseous.
The bottom line is that when you're paying attention, you not only see the humor but you also see the opportunities to create it. And that's the theory behind the fun part of Do it Well, Make it Fun.