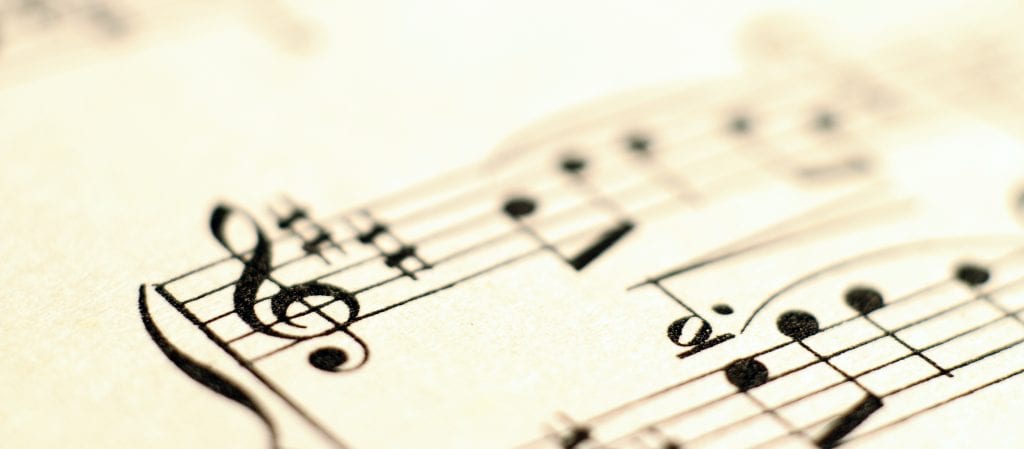 I love music. In fact, I imagine a day in the future when my wife and I travel around the country in our RV attending music festivals and concerts. And while I enjoy music, I'm not an aficionado. Oh sure, I played a wicked baritone horn in high school. But I have no idea what type of guitar Jimi Hendrix played or what made Miles Davis so special. And I certainly can't recite a single lyric from a Taylor Swift song. I'm sure Tim McGraw would shed a teardrop on his guitar if he heard that—so we're probably never ever getting back together (look it up).
Basically, I like music because something moves inside me when I listen to it. It's not moving in a freaky way like the monster from Alien. Instead, it's something more intangible that involves the senses, the soul, and the imagination. But for me, it's not typically based on the lyrics.
Recently, I was talking to a musician friend and admitted that I don't always know the lyrics to songs. He assured me that this is not unusual because some folks are lyrics people and others are music people. I did not know this, and was relieved to know that it's acceptable to be more engaged by the sounds in the music than the words of the song. This also explains why I'm terrible at understanding lyrics. 
For instance, in the Eagles hit "Hotel California," I thought they were singing "once fell a police horse" but it's actually "warm smell of colitas." 
And in "I'd Really Love to See You Tonight," an older song by England Dan and John Ford Coley, I heard the line "I'm not talking 'bout movin in" as "I'm not talking 'bout the linen" (Which might actually work too). 
And I'm really embarrassed to admit that I always thought Eric Clapton's song, "After Midnight" was "Captain Midnight." I guess I thought the song was about a cape-wearing, guitar-licking rock hero. 
So, I think it's pretty clear that I don't listen to music in the same way that many others do. Yet I am still drawn to the sound of music (cue Julie Andrews). 
Music speaks to each of us differently and in general, creative arts affect us in the way that brings meaning to us through beauty, insight, and a different view of the world. As I reflected on my own music preferences, I began to wonder how they evolved. For instance, I love the sound of John Legend's voice and the feel of Aretha Franklin's soulful sound. The harmonic groups like Crosby, Stills, and Nash, and The Band, became some of my favorite performers of all time. And I absolutely love the gritty country sound of Chris Stapleton.
But why?
While I did not grow up in a particularly musical home, I was exposed to some great music during my childhood. When I was a young, my mother listened to Mahalia Jackson, Nat King Cole, and Willie Nelson—such an eclectic trio! This music frequently played in the evenings, on weekends, or during the holidays with the likes of Johnny Mathis and Burl Ives. As I look back, I realize that the sounds I heard in my home led to an appreciation for artists like John Legend, Aretha Franklin, and Chris Stapleton.
In addition to my mother's music, I discovered my sister's record collection that contained the soundtrack from Woodstock, Three Dog Night's Greatest Hits, and the best of Seals and Crofts. These albums, which I played over and over, attracted me to beautiful harmonies and songs that spoke about social activism. Okay, so I did listen to some lyrics.
In college I was exposed to 70's and 80's rock. As a kid from Appalachia, I learned about Lou Reed and David Bowie from my Long Island born college roommate. I did not know this music but got a regular dose as he would blast it through the speakers while he read Nietzsche. For the record, I probably couldn't comprehend Nietzsche in dead silence. 
Steely Dan and Led Zeppelin became my all-time favorite rock groups after I was turned onto them from other college friends. The blend of blues, jazz, and rock truly lifted me up. As I got older, I learned to enjoy the complex sounds of Miles Davis and rediscovered the music of Joni Mitchell. And lest you think that my musical preferences only come from older artists, I also appreciate Billie Eilish, Post Malone, and Bruno Mars.
So, what does this have to do with life, work, or anything, really?
I think my music journey is symbolic of how we evolve through life. Who we are, as people, comes from the influences we've "heard" during our journey. We are the products of families, friends, and experiences. And the more we understand the value of these influences, the more we can tap into them to expand our view of the world.
As a result of my mother's exposing me to an eclectic music collection, I developed an eclectic taste for both music and people. I like the variety. Further, when I was in social work school, I visited a used record store in downtown Richmond, VA. There, I came across a recording of Martin Luther King Jr.'s funeral service. As I scanned the list of speakers and musicians, I saw that Mahalia Jackson had sung at the funeral. I immediately bought the album and almost wore it out listing to her vocals, the other speakers, and King's "I Have a Dream" speech which was also included. Those words had a lasting effect on my work and how I view social justice.
The songs from Woodstock and the use of music as a form of protest made me appreciate the social impact of art. It reminded me that we can use our "voices" to make a difference. I'm sure this influenced my decision to pursue a career in social work as well as using my voice in my career as a speaker and author.
Finally, the country music that was such an integral part of the region where I grew up had such a down-to-earth approach to life. There is a humility in it that encouraged me to not get too full of myself no matter how attractive the bright lights of success might look.
As I said, I love music. And while I may not always understand the chords being played or what lyrics are being sung, the music gets through to me in other ways. We are all products of what we've heard in our lives. If we can channel the good aspects of these influences into noble work, we can put out some beautiful music in the world.