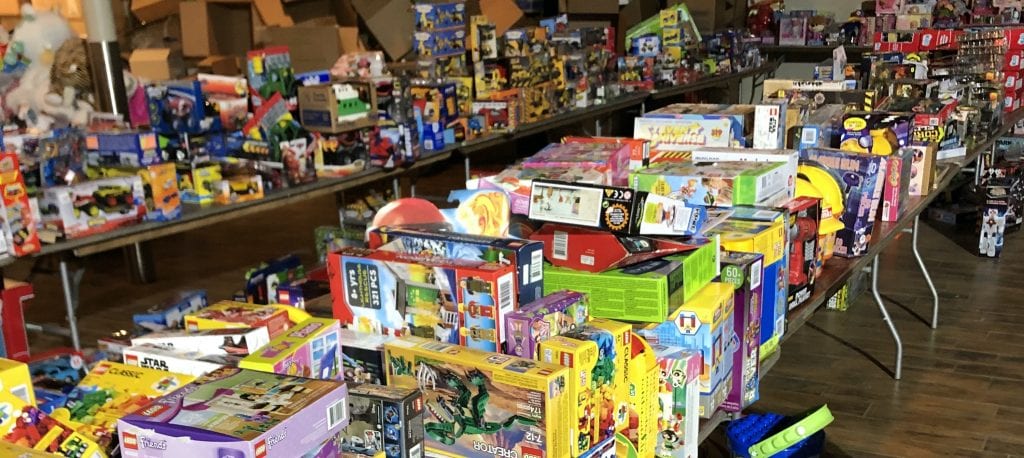 A few weeks before Christmas, my daughter Caitlin asked if I would go shopping with her. I must admit that I was a bit perplexed by this. First of all, my daughter is twenty-eight years old and is perfectly capable of going shopping on her own. Second, my wife usually goes shopping with my daughter. It's akin to women going to the bathroom together. They apparently travel better in pairs. And lastly, I'm not a shopper. I'm more of a getter. I prefer the get-in-get-out approach. I don't enjoy the process of sorting through racks of shoes, shelves of sweaters, and tables of jeans—just to find the bargain. I prefer to grab the first thing that fits, pay retail, and end the agony as soon as possible.
So, when Caitlin asked if I would go shopping with her, I considered shoving knitting needles into my eyes. Luckily, I didn't have any knitting needles. And then, gratefully, I found out what she meant by "shopping."
Caitlin is a kindergarten teacher in Albemarle County, just outside of Charlottesville, VA. Her school and a number of other schools in the area participate in a program called Toy Lift. The program grew out of founder Tom Powell's concern that some local children would not get gifts for Christmas. As a way to address the problem, he sat in a large bucket near a major intersection and announced that he would not get out of the bucket until he had collected five hundred donated toys. By noon he had more than five hundred toys. So he stayed until later that evening and collected over a thousand. It's an amazing story that brings a whole new meaning to one's "bucket list."
In an ideal world, we wouldn't have to worry about whether children got gifts or not. But, in our culture, the act of gift giving at Christmas is a bit over the top. We see commercials suggesting that young couples buy each other cars or we witness parents attacking each other over a popular tickle-me toy. This focus on the gifts creates a lot of stress for people, especially the parents. And if they are not able to provide very much, due to financial challenges or other issues, the children could feel slighted.
Toy Lift is a solution that helps these parents who may not be able to support the societal norm. The concept is quite simple. Community members donate new toys and/or money and Toy Lift organizes and distributes them. This effort is run solely by volunteers.
Parents who choose to participate fill out a form and indicate the types of toys their children might want. The teachers collect this information and share it with Toy Lift. Then, teachers and other volunteers show up at a designated time, two weeks before Christmas, to shop.
Here's how our morning played out. Caitlin and I met for breakfast where we loaded up on bacon and carbs. I think it's a well-established fact that you can't shop on an empty stomach. We then went to a building that used to house a grocery store but had been converted into a huge warehouse. Inside, there were more toys than I'd ever seen. Table after table was covered with toys, games, books, and in the back, there was even a large selection of bicycles. In fact, I read that over 600 brand new bicycles had been donated to Toy Lift this year. I'm not even sure that Santa has this kind of inventory.
When Caitlin and I checked in, we received the lists for several students in her class. Each child got one large gift, like a bicycle or a remote control car, one medium gift, a family game, three age-appropriate books, several small stocking gifts, and a stuffed animal. Our job was to pick out the respective gifts for each student. It was quite a scene. The store was full of volunteers, teachers, people serving free food, and gigantic shopping carts that were bigger than the aisles between the tables. For the first time in my life, I got chills while shopping. This must be what a mall is supposed to feel like.
One of the challenges I encountered, however, was picking out the right gift. For instance, if a family spoke very little English, I wasn't sure if I should get a game that included English words or whether they would prefer something more tactile. And trying to decide whether a child would prefer a caterpillar book over a science fiction book was also a bit tough. I'm a Stephen King fan but I was pretty certain that his books were not a good choice for kindergartners. The best part was strategizing with Caitlin because she knows this age group very well. So, it actually was more fun shopping in pairs. Clearly, I am becoming a woman.
After a couple of hours, we had gathered up the gifts and gave them to volunteers who boxed everything up and delivered the boxes to each school. The schools then distributed the gifts to the families. It was a more rewarding day than I could have ever imagined.
If you've ever gone shopping between Thanksgiving and Christmas, you know what it's like. Typically, we see the worst of human behavior. In fact, we used to joke that we knew the Christmas season had officially started when someone gave us the finger in traffic. It seems that this time of year is full of stress as we try to meet all the holiday demands.
At the Toy Lift event, the mood was quite different. There were many smiles and much laughter as we squeezed down the aisles, sorted through piles of toys, and bumped into each other's carts. You see, I think we realized that this was not the usual experience of buying gifts. It was about something bigger. And knowing that put us in a different frame of mind. This what I love about volunteering. It changes our perspective and reminds us of the needs of others.
On that Saturday morning in December, it occurred to me that I was no longer just shopping. Instead, I was shopping for a good cause.