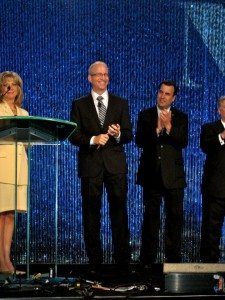 On July 17, 2012, I was honored and humbled to be installed as the 2012-2013 President of the National Speakers Association (NSA).  You could say that I'm their Head Talker for the next 12 months.
As President, my role is to facilitate board meetings and oversee a number of volunteers who work with our association staff to manage education and networking opportunities for our nearly 3,000 members.  It's no small task and it's a great deal of fun.  I get to travel around the country visiting our 40 chapters as well as travel to nine other speakers associations all over the world.
The most common question I get asked about this new role is, "Why would you want to do this?"
The second most common question is, "Aren't you afraid this will detract from your business?"
My answer is that volunteering is part of my business.
A few years ago, I was overwhelmed with several different volunteer responsibilities in my church, my Rotary Club, and my profesional association.  I kept thinking that my volunteer work was interfering with my real work.  Then it occurred to me that volunteering is real work.  I just didn't get paid.  After that I changed my business model.
Now, about 25% of my work is in volunteer service.  By reframing what I did, my volunteer work no longer interferes with my job and my job not longer interferes with my volunteer work because they are the same.
The world needs volunteers.  If we only volunteered when we had extra time, many charities and non-profit organizations would not survive.  If you're not volunteering right now, consider it.  Start small and then do more when you can.
Believe me, it is real work.