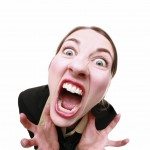 Rush Limbaugh recently called a female law student a "slut" because of her stand on abortion and health insurance. Jon Hamm called Kim Kardashian an "idiot" because of her role in reality television. And many people routinely refer to the President of the United States by less than complimentary terms.
I don't mind when people disagree. Differing opinions are a good thing. But I can't stand it when people disagree disrespectfully.
I was raised by parents who held respectfulness in high regard.  I was taught to consider other people when speaking and making decisions.  In social work school, I was taught that I can help others best when I understand where they're coming from.
I believe a lot of people miss one important element in the course of disagreement – respect for the other person.
We don't have to agree with the person.  We don't have to like the person.  We simply need to respect that they are another human being with a different perspective than our own.
You'd be amazed at how differently conversations evolve when we show mutual respect.
Someone once said, "You just treat issues bare fisted but treat people with gloves on."
The philosophy behind Do it Well, Make it Fun is to approach all aspects of our work and life with excellence while paying attention to the process.  Whenever we deal with other people, excellence comes from communicating clearly.  The process is all about empathy.  By combining clarity and empathy, we are much more likely to communicate respectfully.  By doing so, we also have a greater chance of influencing others with our ideas.