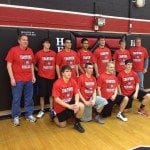 My son has always been a talented athlete.  He's played soccer, basketball, baseball, and lacrosse.  Basketball was his favorite.  However, during his first year playing high school lacrosse, he tore his ACL and never really got back to the level of skill and endurance he had prior to the injury.  So, when he didn't make the varsity basketball team during his junior year, he chose to play "house" league, the league sponsored by our local Optimist Club, instead of not playing at all.  The level of talent is not the same but it is competitive and a number of his friends play in the same league.
This year, his team was good.  They weren't great but they had good kids who played well together and had enough talent to be competitive.  They won some regular-season games but lost some as well.  By the end of the season, we figured they were in the top half of their division but that they probably would not win the tournament – even with excellent post-game analysis from me, a has-been, recreational player who was never really as good as I thought I was.  But isn't that the job of a father?
My son's team won their first tournament game by only a few points.  It was close and very exciting.  The second game was a blowout with our team (and I use "our" as if I was somehow part of the team rather than simply a proud spectator parent) beating a team, who had previously beaten us, by nearly 20 points.  We were a bit surprised but now fully engaged in the big dance.  Well, perhaps the little dance but no less exciting.  We began to wonder if they could win it all.
We went to the semifinals and again, they faced a team that had beaten them soundly in the regular season.  With about 10 seconds to go in the game, we were down by four.  My wife turned to me and said, "Well, it's over."
I said, "You never know."
While I may appear to be the eternal optimist, my positive attitude is often based on a fantasy where I imagine outrageous possibilities such as a three point shot, accompanied by a foul, a technical foul, and some sort of celestial intervention.  Nonetheless, it appears that my glass is half full.
Sure enough, the other team fouled one of our players who made two free throws.  Now, we're down by two with two seconds left in the game.  My son and one other player are the typical go-to three-point shooters so they were heavily guarded.  Another player who is also a good shooter was open.  The inbound pass went to him and he put up a three.  The buzzer sounded just as the ball fell through the hoop.
We had won on a miracle game-winning shot.  Our boys had played good solid basketball and beat a team that had equal or better talent.  For a parent, it was a moment of ecstasy.
Two hours later we won the championship game by two points after my son was fouled twice and sank four consecutive free throws.  This is a kid who, just like his father, can let his thinking get in the way of his playing.  But that night, he had ice in his veins and came through in a clutch situation.
My son loved playing house-league basketball and it's hard to see it come to an end as he goes to college next year.
Looking back, I realize that the high school varsity team would not have been as much fun for him.  The stakes, and the pressure, were higher and the camaraderie was not as great.  On the house league, however, he was playing for fun, for pride and among his friends.
I think my son just realized the power of do it well, make it fun.  You can achieve great things while having fun along the way.
And by the way, when he won the championship, I stormed the court.  Turns out, people don't really storm the court in house league.  So, I just went back to my seat.  But in my mind, I was running around like Jim Valvano, looking for somebody to hug.