What do you think of when you hear the word "service"? Do you think of service organizations like Rotary International? Do you think about the start of a tennis point? Or do you think of what always seems to be missing at Denny's?
When you hear service applied to leadership, as in "servant leadership," you might associate it  with a unique style of leadership primarily found in small non-profit organizations that fly under the radar and are not usually that financially successful. But shouldn't all leadership be focused on service?
Being a servant is somehow viewed as less prestigious than a "CEO" or "Director of Everything" and is often perceived as a leadership style that is not strong enough to run a "real" company. Some leaders, I dare say, even feel that their employees should serve them. In fact Kings, Queens, and even some religious leaders in history have gone so far as to kill people for not serving them. And I'm sure this particular job risk was not even mentioned in the Medieval Employee Orientation Manual.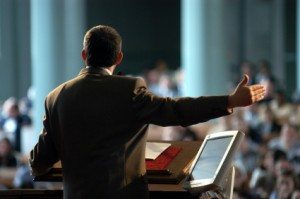 Today's organizational leaders do not kill employees but with the wrong approach, they can certainly kill the spirit of teamwork and the enthusiasm for the work that's being done when they feel entitled as leaders.
Recently, a priest in Germany was expelled by Pope Francis, pending an inquiry, because of his lavish lifestyle. It seems that Pope Francis believes that a modest style of leadership is more effective than pursuing priestly prestige and material benefits. I suspect Jesus may have shared this opinion as well.
So, why don't more companies approach leadership this way?
Think about the power an organizational leader has when he or she strives to serve employees. If you were one of those employees, don't you think you would work harder for that person? Wouldn't you be proud to work in an organization that supported that style of leadership? I think so.
Oh sure, we've seen some successful leaders who walk all over people, manipulate the system, and use political wrangling to move their ideas forward. This style justifies the means by the apparent outcome. But by reframing their actions through the lens of service, these leaders could achieve perhaps an even greater level of success if they built up their people and their organizations along the way.
But what does it mean to be a servant leader? Simply put, every decision, every action, and every comment is prefaced by asking this question: How can I help?
Here are some examples of how this question applies to real life:
"How can I help to reduce our financial deficit?"
"How can I help us serve more customers?"
"How can I help an underperforming manager to be more effective or find a more suitable position elsewhere?"
"How can I help myself to more pie in the cafeteria?" (OK, I just threw that one in to see if you were paying attention.)
If, as a leader, you expect everyone to serve you, then you are not using your influence and position to help your employees or your organization. You are simply looking out for yourself. And haven't we all had enough of leaders who are only there to protect themselves?
Servant leadership should not be something we consider unique or only found in the non-profit world. It should be the first thing we are taught when we become a manager or supervisor. The more we seek to help, the more we will succeed and the more we will help others succeed.
So, if you want to do leadership well through the practice of service, ask yourself, "How can I help?"