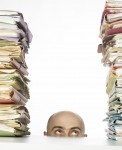 My wife and I are building our retirement home.
Let me rephrase that.
My wife and I are building a home in which one day, God willing, we'll retire. We just want to enjoy it before we get to the walker-and-pureed-food stage of our lives.
We bought our house plans online at, coincidentally, HousePlans.com and I needed to make 15 copies for the builder. So, I went to FedEx Kinko's, the copy store I've been using since college, since I assumed it would be the best deal for a big copying job like this.
A lovely Copy-Print-And-Ship-FedEx-Kinko's Sales Person greeted me at the counter and said she would be happy to help me. She took down all of my information and then commenced to type on her keyboard just like an airline ticket agent. She banged on that thing for what seemed like an hour. Then, she said, "It will be $1,080 to copy your plans."
I'm sure the expression on my face looked like a combination of surprise and blood-curling terror. Thank goodness I asked for an estimate rather than just dropping it off and picking it up later.
I told the sales person that I needed to check the balance in my checking, savings, and offshore accounts before I moved forward with the copying job. Then, I slipped out the door and called a buddy who owns a construction company to see if he felt this price seemed high. He said they do their printing in-house but suggested I contact a local printing company that specializes in house plans. So that's what I did.
The company he recommended was ABC Imaging and they were just down the road. I stopped by, still with a look of terror on my face, and the clerk informed me that she could copy my plans for a total of $187.20. That's a savings of $892.80!
I think I had a tear in my eye when I thanked her, the printing guy, a garbage collector who just happened to be there, and another customer I met on my way out. I felt like I'd won the lottery or at least a Golden Globe nomination.
So here's the thing. FedEx Kinko's is in business to make money. ABC Imaging is in business to make money. So how is there a $892 difference in their prices on one print job? I'm not sure but I suspect it's because FedEx Kinko's is making a boatload more money. They certainly have the right to do that but do they need to? Maybe. Maybe not.
The bottom line is that I learned two important lessons here that might help you as well.
First, don't take anything for granted. Check the facts and compare. You may think you've only got one option but upon further examination, you might have more. Second, use friends, mentors, and colleagues for advice. Both can save you a lot of money and heartache.
And one last thing. If you plan to copy this blog for a friend, don't go to FedEx Kinko's. Just saying.