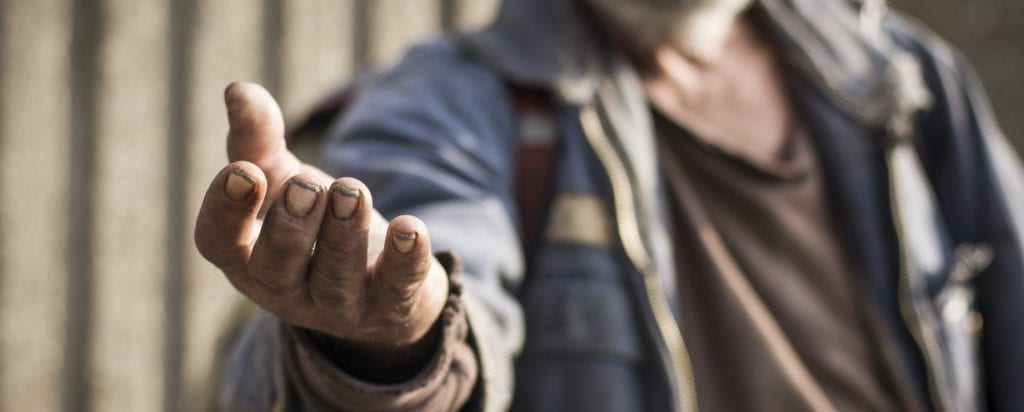 Early in my career, after speaking at a hospice conference, I walked to dinner with two of my colleagues. Dale and Elliott were both psychologists and I was a social worker. On the ladder of psychological hierarchy, social work is often placed on a lower rung than psychology and psychiatry which suggests that my Ego was not up to their Superego. Whether or not this is accurate, we both appreciated and admired each other.
As we returned to our hotel, we were approached by a man who asked for money. He said, "Excuse me. I ran out of gas and don't have a way to get home. Could you spare some money so I can buy the gas I need?"
While this might seem like a reasonable request, I had heard this exact same appeal from people in other metropolitan areas. It's as if there is a central repository where one can acquire pre-written solicitation scripts such as "Email from Nigerian Widow" or "Your Computer Has a Virus" or "I've Been Hit on the Head in a Foreign Country and Lost my Passport."
So, when this particular man quoted a familiar script about running out of gas, I became suspicious. Apparently, Dale had heard it before as well and the two of us said that we did not have any money for him. Elliott, on the other hand, pulled out five dollars and gave it to the man.
As we continued walking, I decided to ask Elliott why he had given the man money. I said, "When I was in social work school, I learned that if you give someone cash, it's a temporary solution that also reinforces the behavior of approaching people on the streets. Plus, I wonder if he's going to use the money for alcohol rather than gas."
Elliott said, "Well, when I was a kid, my father told me, 'If someone is in a position where they need to beg, who are you to judge whether they deserve it or not?'"
His comment hit me right between the eyes. I had never really thought about it like that. I was being more judgmental than compassionate. So, the experience that night made me unsure of the right way to respond to these kinds of requests. I bet you've had a similar experience and have been told different ways to approach the situation. I've heard everything from "I always give something" to "I never give anything" to "those people should get a job."
I understand the rationale behind each of these opinions and have felt the same way at different times during my life. More recently however, I've been approached more frequently and decided to do some research to see what the experts had to say. I read articles by social workers, psychologists, social activists, and other professionals who work with the homeless community. Here are a few of their insights:
Support Community Organizations—One of the most effective ways of addressing the issue of homelessness and poverty is to support the organizations that are trying to eradicate these problems. A lack of jobs, adequate housing, and available transportation are common issues that these organizations are tackling. The more we support them, the more they are able to pursue effective solutions.
Make Eye Contact—One of the common responses we have to people who are homeless or who approach us for money is to ignore them. Whether it's a concern for our safety or we've had an unpleasant experience in the past, we often walk right past these individuals without making eye contact. Experts say that even if we don't give money, by making eye contact and acknowledging the individual, it allows them to maintain a bit of their dignity in the midst of a difficult situation.
Don't Give Money—While many of the people we encounter on the streets need money, most professionals seem to agree that giving people money neither solves the underlying problem nor helps them with their immediate needs (especially if they use the money for something other than food, clothing, or shelter). Instead, however, we can provide personal care items such as toothbrushes, socks, and gloves, or give someone a gift card to a local restaurant or grocery store. These are alternatives that provide a more tangible benefit.
As a result of the information I found from the experts, I am exploring a new way to respond to people who ask for money. I purchased a few McDonald's gift cards ($5.00 each in value), since McDonald's restaurants are very accessible, and I give out the gift cards with information about local organizations that offer food pantries, emergency shelters, social services, etc. My hope is to provide a meal and some additional resources for people in need.
I realize this effort doesn't solve the underlying problem of homelessness, and a Big Mac might not be the healthiest meal, but it does allow me to respond to a request, look someone in the eye, and give them something practical.
In life, we often encounter challenges that on the surface may seem unsolvable. Whether it's homelessness, violence, or discrimination, the best way to respond is not always obvious. For me, a little research sparked an idea that may prove to be worthwhile. And if nothing else, it's moved me from being judgmental to a bit more compassionate. Like my friend Elliott said, "If someone is in a position where they need to beg, who am I to judge whether they deserve it or not?"