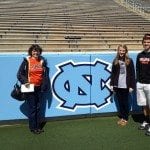 Some of life's most memorable moments are not always the big events that took months to plan but are often the unexpected treasures that you discover while in the midst of an unplanned adventure.
A couple of weeks ago, on the spur of the moment (even though I don't really know what a spur has to to with the moment), our family decided to go on a spring break field trip. My son Ryan plays high school lacrosse and since they're required to attend practices and scrimmages for part of spring break, a big trip is usually out of the question. So, we decided on a road trip to the University of Virginia (UVA) and then to the University of North Carolina (UNC).
My wife, Wendy, and I graduated from UVA. My daughter Caitlin attends UVA now. Ryan will attend UVA in the fall. So, we're just a tad bit obsessed with the Cavaliers, or Wahoos as they are affectionately known.
The UVA lacrosse team was #1 in the country when we took our trip. They were playing UNC on Easter Eve and we were on a mission to see the game.
To make a long story fit this blog, we had a magical four days of golf, shopping, great meals, and an exciting lacrosse game during which UVA put a whooping on UNC to the tune of 15-10. While UVA has many winning sports programs, their football and basketball teams struggle. So, it's always nice to put a whooping on anyone.
In my new book, Do it Well. Make it Fun., there is a chapter on parenting. I make no claims to being great parent but I do think there are a few things we can do better as parents.  Here are three tips:
First, be interested in your children's lives. I'm amazed at how many parents dislike their kids' music or have no idea what television shows they watch. Wendy and I try to stay on top of our kids' interests as a way of finding common ground for good conversation – even though our kids forbid us to dance to any of their music…or ours.
Second, do mutually enjoyable activities together. We can certainly embarrass our children in public even though they don't realize the magnitude of embarrassment we're really capable of. That's nice bit of leverage, by the way. But they still enjoy doing things with us – in public. We seek their input and then try to engage in activities that everyone enjoys.
Third, see parenting as a partnership. Spouses, partners, and friends (if you're a single parent) are resources to make the challenges of parenting easier. Decisions, especially punishments for not taking the dog out for the millionth time, as a hypothetical example, are less difficult when made with the input of a partner.
Our trip to UNC was one of those memories I will always treasure because we had a great time together and strengthened the relationships within the family. Well, that and the whooping we put on UNC.