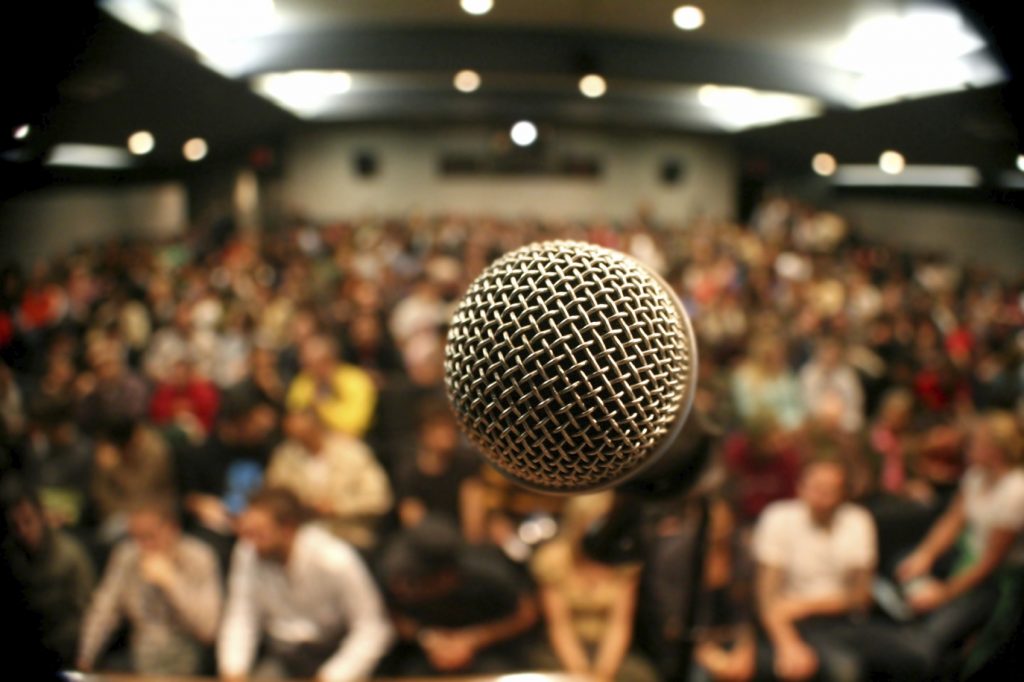 One of the benefits of being a strikingly good looking, hilariously funny, and humble professional speaker is that I've gotten to learn from some pretty cool people over the years. Once, I got to spend time backstage chatting with Rabbi Harold Kushner, author of When Bad Things Happen to Good People. I also had dinner with several former governors from Virginia, including Douglas Wilder, the first African-American governor in the United States. And I opened for The Second City comedy troupe. But one experience still stands out as both a fun time and a rare brush with celebrity. In the mid-1990's, I was invited to co-emcee a fundraiser with Emmy-award winning actor, Tony Randall.
For those of you who are under 60 years of age, Tony was a broadway, television, and film actor who was best known for his role as Felix Unger in the 1970's television show The Odd Couple. He was chosen as my co-emcee not only because he was famous but because his wife had received hospice care a few years earlier. I was chosen because of my background as a hospice social worker and my experience emceeing the National Hospice Organization's annual awards banquet. 
By the way, I have referred to Mr. Randall as "Tony" to create the illusion that we had any relationship whatsoever. In reality, if you had asked him who his co-emcee had been, I'm certain that on the morning after our event, he would have said, "I had a co-emcee?"
The woman who booked me for the fundraiser called a few weeks before the event to give me Tony's home phone number. She said, "We would like for you to write a comedy routine for the two of you to perform. Please call Mr. Randall and work out the script."
Now what you need to understand is that Tony Randall had over fifty years of entertainment experience—including an award-winning sitcom. He had such a quick wit, he was a regular guest on late-night talk shows where his remarks led to uproarious laughter. I, on the other hand, was just beginning my career and as a speaker, my remarks typically led to down-roarious chuckles. Plus, most of my humor was "ripped off" from other sources as I had not yet begun to write my own material. The idea of my calling Tony Randall to suggest that I write our comedy routine was akin to my contacting LeBron James to offer him a few basketball plays. Geez.
But we did need to plan out our emcee approach for the fundraiser. I figured I had to call him. So, I sat at my desk for thirty minutes practicing how I would begin my first celebrity phone call.
"Hello, Mr. Randall, you don't know me but I'm Ron Culberson." (Duh. Of course he doesn't know me.)
"Yo, Tony. It's Ron." (Way too familiar and Sopranos-esque).
"Mr. Randall. I know you're very busy and I don't want to take up too much of your time. (Click).
I finally decided to simply say, "Hi Mr. Randall. My name is Ron Culberson and I'll be sharing the emcee role with you at the hospice foundation event. I've been asked to touch base with you to talk about how we want to approach it."
He greeted me warmly (whew).
I then explained that I did not feel comfortable writing material for him. He was very kind and told me not to worry. Instead, he said I should simply prepare my own remarks and he would just respond in the moment. He assured me that the evening would be a great success.
I hung up the phone, threw up, and started working on my material.
Now, Tony's wife had died several years before our fundraiser. They had been married for fifty-four years. Three years after her death, at the age of seventy-five, Tony married a twenty-five year old woman—and she was now pregnant. On our call, I asked Tony if it was comfortable with my making light of his new "marital situation". He said he was fine with it and added that the press had been having a field day with his marriage and impending late-in-life fatherhood.
The night of the event arrived. I took the stage and introduced my "co-star," Tony Randall. The crowd went crazy. As he arrived at the lectern next to me, I greeted him and mentioned that we had something in common. He said, "What's that?"
I said, "We both married twenty-five-year-olds. I was just twenty-six when I did it."
The crowd roared.
I then said, "It's interesting that your new wife is now pregnant. It's as if you robbed the cradle and then filled it back up."
The crowd roared again.
As we continued our banter, Tony's impromptu responses to my comments were both funny and gracious. The emceeing process went quite smoothly and we had fun together.
The pinnacle of the evening was a drawing for $1,500 in cash. I shuffled the entries and Tony drew out the winning name. When he announced who it was, we heard a scream from the back of the ballroom. A woman jumped into the air, ran to the front of the ballroom, and leapt up onstage. She was so excited, she was trembling. Then, as she grabbed the envelope from Tony, he held on tight and said, "But, of course, you're going to donate the money back, right?"
The woman's face froze. She looked at me, looked at the audience, and then slowly nodded to Tony.
She let go of the envelope and the crowd roared one more time.
When all was said and done, the whole event went well. The foundation raised a ton of money. I had become a bit more confident in my ability to write new material. And I had witnessed the work of a true celebrity. I was amazed by Tony's improvisational ability and it inspired me to ad-lib more when I emceed other events. Over many years of hosting awards banquets and fundraisers, I frequently added funny responses to things other people said. I may not have been as good as Tony Randall, but I did "encourage" a few people to give up their raffle winnings for a good cause. So, I guess you could say that I "cashed in" on my brief brush with celebrity.