Browse our bookstore and choose from a number of books that Ron has authored, co-authored or recommends.
Book – Do it Well. Make it Fun
Do it Well. Make it Fun.  The Key to Success in Life, Death, and Almost Everything in Betweeen
by Ronald P. Culberson 
Based on the universal truth that excellence is the key to success in most aspects of life – and death (in a pre-death kind of way) – this book is a refreshing look at taking excellence to new heights.  Ron proveds an easy-to-implement two-step process that will lead to greater success in both career and life:  (1) do it well, and (2) make it fun.  Read Table of Contents and Introduction
"What a great alternative to 'Do It Good Enough. Try Not To Hate It.' which is the book most of the world lives by.  Ron's book helps you re-frame real life in a fun way.  I'm better for having read it! "  - Larry Winget, Five-time bestselling author and television personality, including the #1 Bestseller, Shut Up, Stop Whining and Get A Life!
$18.95
---
Book – My Kneecaps Seem Too Loose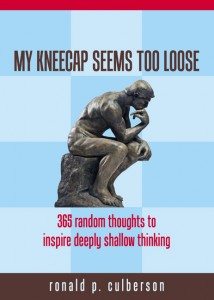 My Kneecap Seems Too Loose:  365 Random Thoughts to Inspire Deeply Shallow Thinking

by Ronald P. Culberson
This book does not include any complicated self-help theories or in-depth research on the quantitative benefits of thinking. It will not make you a better person, a better employee, or a better leader. It has absolutely no impact on the delivery of outstanding customer service. Your marriage will not improve, and your parenting skills will most likely be as bad as they are right now.
What you will get from this book is the priceless benefit of a random thought delivered to you for less than four cents a day. From that, who knows how much deeply shallow thinking may be in store for you.  Read Sample.
"Aristotle. Kierkegaard. Culberson… I have no doubt the philosophy professors of the future will use Culberson's book as a classic text."  – AJ Jacobs, Author of The Year of Living Biblically and The Know-It-All
$12.95
---
Book – Is Your Glass Laugh Full?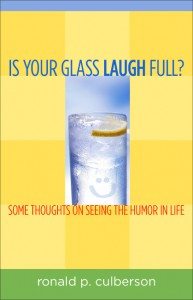 Is Your Glass Laugh Full?  Some Thoughts on Seeing the Humor in Life
by Ronald P. Culberson
A delightful, fun and funny book showing the many ways humor works its way into our lives.  Not only does Ron share many heart-full and hilarious stories from his life, he shows how these experiences go beyond just a laugh and represent real principles that sustain us.  This book is a perfect pick-me-up and you won't want to put-it-down.   Winner of the "Best Book Written by Someone in the Family" by the Ronald P. Culberson Family Writers Guild (OK, so it was the only book written by someone in the family).
This well-written book will show you how easy it is to find the lighter side of life.  With amusing anecdotes, witty words, and wonderful wisdom, this is the perfect book for anyone seeking the gift of humor. " Allen Klein, author of The Courage to Laugh and The Healing Power of Humor
Enlightening will strike again and again in this funderful book, which inspires you to see and seize the opportunity to bring humor to life.  Ron's collection of delightful and insightful stories shows how to give yourself the gift of amusing grace.  Come fill your cups with the magic elixir of laughter! " Dr. Joel Goodman, Director, The HUMOR Project, Inc. and author of Laffirmations.  See Introduction.
$14.95
---
3 Books – Bundle of Savings!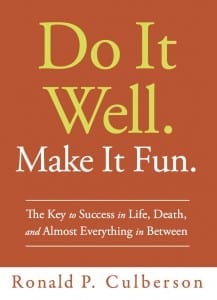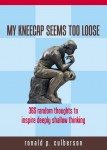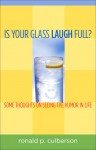 Triple Up and Save!
Buy all of Ron's books together and save $11.85!
        $35.00
---
Book – Paid To Speak
Paid to Speak:  Best Practices or Building a Successful Speaking Business

Published by The National Speakers Association

"Paid to Speak offers dozens of sage pieces of advice for anyone who wants to build their speaking business.  From content to marketing to deliver, this book will save you years of hard knocks on your way to becoming a 'million dollar mouth'." 
Covering every aspect of launching, building, and maintaining a successful speaking career, Paid to Speak is a must-read for professional speakers – whether keynote speaker, motivator, coach, trainer, facilitator, or consultant – as well as those aspiring to a speaking career.
The book is divided in to four sections:  Eloquence, Enterprise, Expertise, and Ethics.  Ron is co-author of a chapter on "Cooking up Comedy".
$22.95
---
Book – Chicken Soup For the Nurse's Soul, 2nd Dose
Chicken Soup for the Nurse's Soul, Second Dose
Edited by Jack Canfield, Mark Victor Hansen, and LeAnn Thieman, LPN
(Chapter by Ronald P. Culberson)
As part of the hugely successful Chicken Soup for the Soul series, this book contains a collection of true stories that encourages, uplifts, and honors nurses reenergizing them with hope, health, and healing during challenging times. It includes a chapter by Ron called ""There Is Nun Better"."
$14.95
---
Book – Great Comedians Talk About Comedy
Great Comedians Talk About Comedy
By Larry Wilde
This book includes interviews with seventeen of the funniest people of the 20th Century talking about how they make people laugh. Larry Wilde spent years researching, collecting the material, and recording these intimate one-on-one conversations. The comedians interviewed include: Jerry Seinfeld, Woody Allen, Milton Berle, Johnny Carson, Phyllis Diller, Bob Hope, Dick Gregory, and others.
$25.00
---